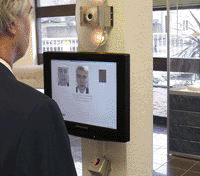 UniPort™ Clocking and Visitor Enrollment Station

Often visitors and employees enter and exit through the same reception area, UniPort allows visitor to self-enroll as well as employees to clock IN and OUT for applications where more efficient use of your investment is required.
Proximity

Swipe

Barcode

Fingerprint

Combination Readers


Time & Attendance
Keeping track of employees' attendance is vital to the efficiency of any business. Ringdale's time and attendance systems allow companies to manage, monitor and produce reports of employees attendance.

Output to various formats for use in existing payroll software such as orgCenter-Payroll ADP and PenSoft.
Clocking Stations
Cost effective and robust time and attendance terminals that are Ethernet connected and can communicate securely with the central server via the Local Area Network or the Internet. More...