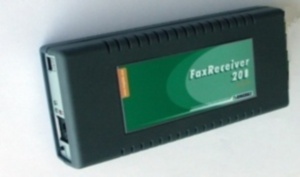 MFR-201 ModuLAN® FaxReceiver Appliance


Product Overview

Network FaxReceiver Appliance receives fax and converts the document into a PDF e-mail attachment so a fax automatically ends up in your email inbox or your FTP server for archiving.

System Overview

The Network FaxReceiver Appliance is a self contained Appliance that connects directly to the Fax-Phone Line and the Ethernet Network.

The MFR 201 - FaxReceiver Appliance converts incoming faxes into PDF attached to emails sending them directly to an inbox on a pre-programmed mail server without using a PC.



Benefits
Works in any IP Ethernet Network Environment
Connects directly to phone line and to the Ethernet Network

Receives Group III / CCITT-1 fax documents

Very low power consumption
- does not require a PC
Converts faxed document to email with embedded PDF file
Converts fax to email and sends to your mailbox as it is received.
Supports standard and fine mode
Accepts up to 17inch paper length per page
Guaranteed email delivery
Makes you self sufficient at a one time cost
Features
Simple to use and install with intuitive user interface
Remote management using Telnet
Low initial installation price
All hardware, power supply and cables included
Includes own network connection
Cost Savings
Reduced cost of ownership
Reduced device support costs
Reduced IT staff support overhead
- Possible to standardise on single device manufacturer throughout organisation
- Users not reliant on single device
Reduced running costs (consumables, toner)
Reduced administration costs as distribution can be via email
No monthly fees
Example:

Savings based on approximately 20 spam faxes a day @ 0.07 cents per page for 365 days a year,
Reduces direct waste significantly and can produce an ROI of less than a year, based on approximately 20 spam faxes a day @ 0.07 cents per page for 365 days a year totals a direct saving of US$511 per device.

(Based on figures provided by the Chamber of Commerce in Georgetown, Texas)

Return On Investment

The MFR 200 and MFR 201 - Fax Receiver Appliances have the highest ROI of any product in its market and typically pays for itself within the first year!

For more information please contact us.
NEW Products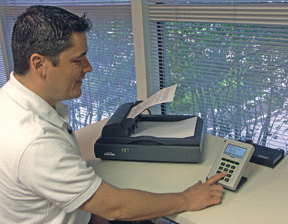 DocuSender

Product Manuals

Product Enquiry

Technical Enquiry